Budongo Forest, at a glance
Depending on where you are in the forest, the landscape can change drastically, morphing between savannah, riverine marshlands, and woodland. The forest sits at a medium altitude of 1,100 metres, and the land slopes from southeast to northwest.
The Budongo Forest is famous for its population of chimpanzees. Chimp trekking is possible here, and sightings are around 80%.
It's best to visit during the dry season, which is between December and February, and again from June to September. Temperatures are consistent throughout the year, hovering between 19-32 °C.
Budongo Forest Reserve is on the southern edge of Murchison Falls National Park and is just under a 4-hour drive from Kampala.
The nearest town to the forest is Masindi, and much of the surrounding area is occupied with houses, schools, and markets.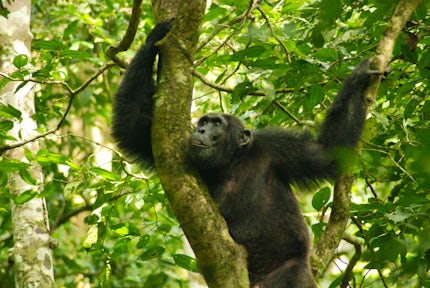 Primates, swinging from tree to tree above
The history of Budongo Forest Reserve
Vernon Reynolds, a researcher, first arrived in Budongo Forest Reserve to study chimpanzees in 1962.
In the 1970s and 80s, two civil wars broke out throughout the country. During this time, chimpanzee mothers were murdered, so people could steal the infants and take them to Entebbe airport. From there, they were smuggled out to wealthy individuals.
After fundraising, Reynolds managed to return to the forest in 1990. With the help of Chris Bakuneeta, he established a base to find chimpanzees and renamed the Budongo Forest Project to Budongo Conservation Field Station (BCFS).
Funding was made available by The Jane Goodall Institute, which helped Reynolds to hire trail cutters, and field assistants to find any remaining chimpanzees.
By 1995, at least 50 were found, but they were understandably terrified of humans, so the habituation was a long process. Since 2000, the number of chimpanzees has steadily grown, and in 2005 BCFS received funding from Edinburgh Zoo.
Only a very limited number of visitors are allowed at the actual field stations, which does not include travellers.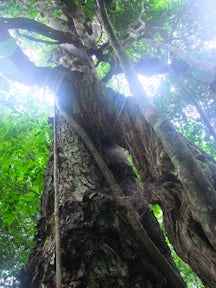 Budongo Forest Reserve
What can I do at Budongo Forest Reserve?
Kaniyo Pabidi
Kaniyo Pabidi, on the northeast side of Budongo Forest Reserve, has various groups of chimpanzees that you're able to trek.
The forest is predominantly filled with swan-forest mixed trees, and a bountiful amount of fruit which the primates pick. Some sections of the forest are savannah.
It's also characterised by mahogany trees, as well as ironwood trees, which the chimpanzees and monkeys use to play.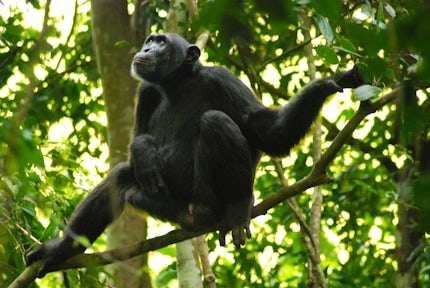 Chimpanzees can also be found at Murchison Falls.
Busingiro
Similarly, Busingiro is home to families of chimpanzees, which you can also trek.
From this forest, you'll be able to see Congo's blue mountains, as well as the rift valley escarpment.
The ecotourism site runs an environmental education course for local schools, to teach them about their surroundings.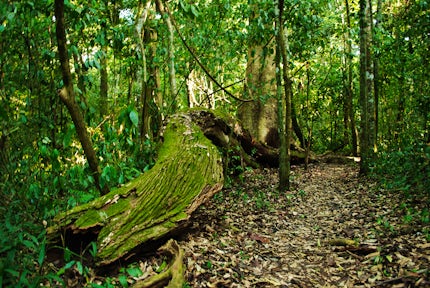 Boomu Women's Group
Boomu Women's Group was established in 1999 and currently consists of 40 members. The group came together when farms had little to no produce to sell. They aimed to reduce poverty and malnutrition, by providing an income to pay for their children's school fees.
It began as a craft group but has since become a wonderful community tourism project based between Budongo and Murchison Falls.
During your visit, you'll get a real sense of Ugandan culture by partaking in village walks, learning how to cook traditional dishes, and being taught basket weaving.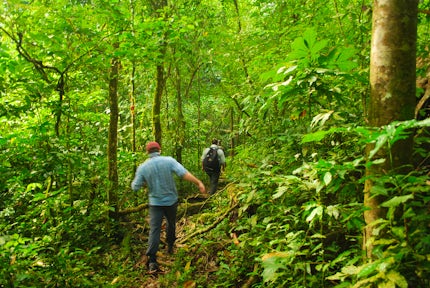 Wildlife at Budongo Forest
The forest has 600-700 chimpanzees, which is the largest number in Uganda. Though the chimps are the main attraction, down by the savannah you can occasionally spot buffaloes and elephants.

Leopards and lions reside in the forest, but are rarely seen. You're far more likely to see antelopes, waterbucks, and duikers down by the water.
The morning is the best time to see the wildlife, as several forest inhabitants can be found licking salt by the forest glades.
If you're a keen birdwatcher, Budongo Forest Reserve hasover 360 species of birds. It's one of the most significant places to see birds in Uganda, as you may see a very rare yellow-footed flycatcher, or an illadopsis puveli, which is a new addition, and not seen anywhere else in East Africa.
Black and white monkeys, olive baboons, blue monkeys, and red-tailed monkeys can also be spotted playing in the trees.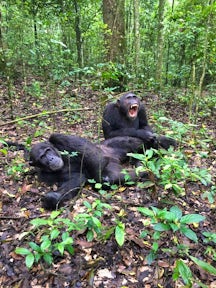 Budongo Forest Reserve
Accommodation at Budongo Forest
Busingiro has 2 African bandas, with each accommodating up to 5 visitors. They're located in the forest, meaning you can fall asleep to the sound of the surrounding forest.

Similarly, Kaniyo Pabidi has cottage accommodation, as well as a campsite.
At Boomu Women's group, there are grass-thatched bandas you can stay in, which are surrounded by gardens, butterflies, and weaver birds.
However, most people choose to spend the night at one of the lodges in Murchison Falls, as Budongo is usually just part of a wider exploration of the national park.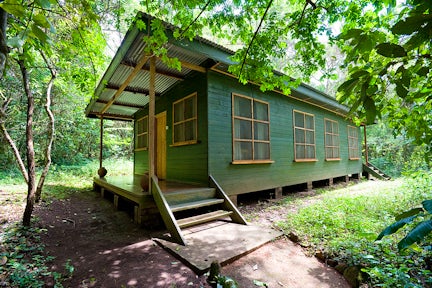 Budongo Ecolodge is a pleasant and comfortable base for forest exploration.
Ready to visit Budongo Forest?
The tours below showcase just some of what is possible. Use these itineraries as starting points, or to draw inspiration. Then get in touch, and let our expert team help craft the perfect itinerary for you.
Thinking about visiting Uganda?
1
Listen
We'll spend some time listening to your aspirations, then discuss the kind of experience that might suit you.
2
Match
Next we'll discuss the options, shortlist the best trips for you and present you our impartial recommendations.
3
Reserve
We'll place a 24 hour hold on your preferred option - without obligation - whilst we talk through the details.
Get in touch and we can help you understand your options, design an itinerary that's right for you, and then get you set up and ready to go.
+1 315 636-4279