Introduction to Lake Edward
Where is Lake Edward?
Located on the border between Uganda and the Democratic Republic of the Congo, Lake Edward is shared between the two nations.
Lake Edward's surface area of 2,325 km² renders it the smallest of the African Great Lakes.
The lake's northern shore is just a few kilometres south of the equator. Lake George drains into Lake Edward via the 32km long Kazinga Channel, a major attraction within Queen Elizabeth National Park.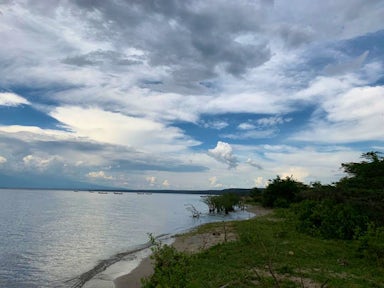 History of Lake Edward
Although Lake Edward's name has changed several times, its majesty has remained constant.
In 1888, the British explorer, Henry Morton Stanley, named the lake after Prince Albert Edward, the son of Queen Victoria.
In 1973, the Ugandan dictator, Idi Amin, named the lake after himself. However, the original name was reinstated after Amin was overthrown in 1979.
The lack of a definitive border between the Ugandan and Congolese sections of Lake Edward has led to tension in recent years. In 2018, there was a naval skirmish between the two nations on Lake Edward.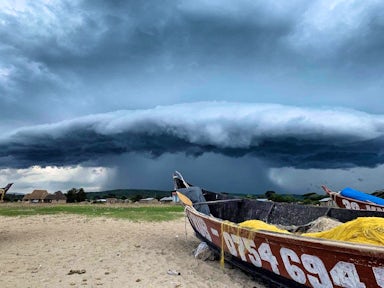 Wildlife at Lake Edward
Like Lake George, Lake Edward is designated as a Ramsar site due to the importance of its wetland habitat. The lake is inhabited by many fish species, including the Nile tilapia and the blue-spotted tilapia.
Fishing is an important economic activity, and it provides an income for the local residents. Vitshumbi is the largest of the local fishing villages.
The banks of Lake Edward are home to elephants, chimpanzees, buffaloes, and crocodiles.
Lake Edward is visited by many species of migratory water birds, and the lesser flamingo has been spotted several times.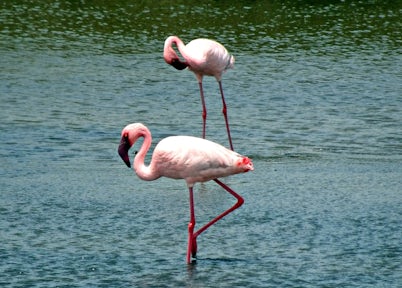 Things to do at Lake Edward
Kazinga Channel Cruise
Climb aboard and explore the wonders of the Kazinga Channel from a new angle. An expert ranger will guide you through the beautiful flora and fauna.
Whether you encounter energetic elephants or bathing buffaloes, you will certainly have a memorable trip.
There are two independent boat cruise operators, the Uganda Wildlife Authority and Mweya Safari Lodge. Both trips cost around $30 per person and last around 2 hours.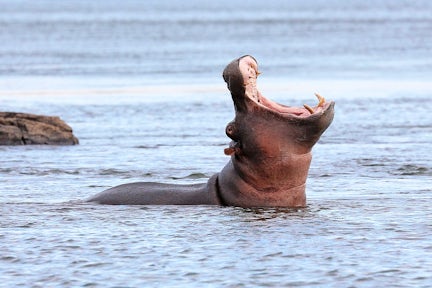 Despite their bulky shape and short legs, hippos can run at 19 mph.
Mweya Safari Lodge gives visitors a choice between its comfortable ten-seater boat, The Sunbird, and its stylish twelve-seater boat, The Kingfisher. Both vessels have experienced guides and crew, but the Kingfisher allows you to travel in luxury with refreshments and canopies.
As well as seeing a range of mammals, you will get a glimpse of one of the eleven fishing villages that are located within Queen Elizabeth National Park.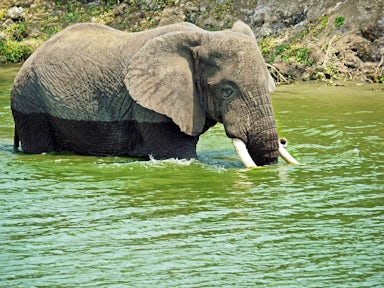 The African bush elephant is the largest living terrestrial animal.
Where to stay around Lake Edward?
Mweya Safari Lodge
Located on the Mweya Peninsula within the heart of the Queen Elizabeth National Park, this luxury lodge has an excellent location.
The lodge offers unforgettable views of the winding Kazinga Channel, the towering Rwenzori Mountains, and the distant grasslands that merge into Lake George and Lake Edward.
The lodge offers a broad range of accommodation, from standard rooms to spacious private cottages which offer complete seclusion.
The Mweya Health Club is a great place to unload excess stress. The Health Club has a steam bath and sauna, and it offers massages, body treatments, and facials.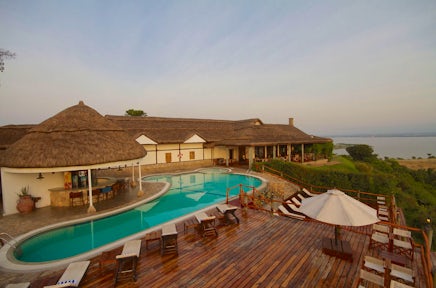 Njovu Park Lodge
The lodge's central location within Queen Elizabeth National Park provides convenient access to Lake Edward.
Njovu Park Lodge prides itself on its sustainability and respect for the local wildlife. The lodge seeks to immerse its guests in Queen Elizabeth National Park, and guests often leave with an enlightened perspective on their relationship with nature.
The accommodation ranges from a 'Junior Suite' which contains one single bed, to a 'Grand Superior Room' with two king-sized beds.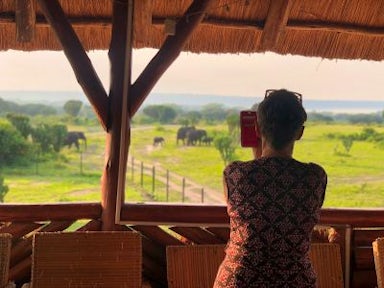 Our Most Popular Uganda Trips
The tours below showcase just some of what is possible. Use these itineraries as starting points, or to draw inspiration. Then get in touch, and let our expert team help craft the perfect itinerary for you.
Thinking about visiting Uganda?
1
Listen
We'll spend some time listening to your aspirations, then discuss the kind of experience that might suit you.
2
Match
Next we'll discuss the options, shortlist the best trips for you and present you our impartial recommendations.
3
Reserve
We'll place a 24 hour hold on your preferred option - without obligation - whilst we talk through the details.
Get in touch and we can help you understand your options, design an itinerary that's right for you, and then get you set up and ready to go.
+1 315 636-4279