Wildlife Tours in Uganda
The tours below showcase just some of what is possible. Use these itineraries as starting points, or to draw inspiration. Then get in touch, and let our expert team help craft the perfect itinerary for you.
Wildlife in Uganda
Gorillas
Uganda's most famous tourist experience, tracking the mountain gorillas is arguably one of the top best wildlife encounters available anywhere in the world.
Coming face to face with mountain gorillas in their natural habitat is a powerful and humbling experience. That is not hyperbole; it is fact. You can always spot trekkers who are returning from having been with the gorillas: even the strong and silent types are grinning and chattering like birds.
Where can I find Gorillas in Uganda: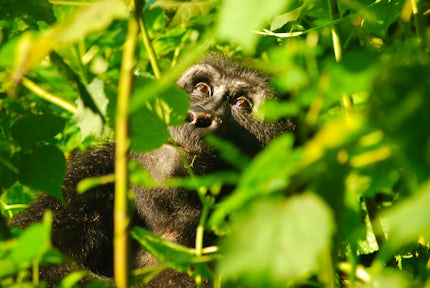 Adult Gorilla photographed by the habituation team.
Golden Monkeys
An endangered species that can only be found in four national parks in the world, these beautiful animals are much easier to track than the gorillas in Bwindi as they do not roam around as much.
Their name comes from the golden fur that covers much of their body and faces. An active bunch, you'll find them jumping around in the heights of bamboo trees.
Where can I find Golden Monkeys in Uganda?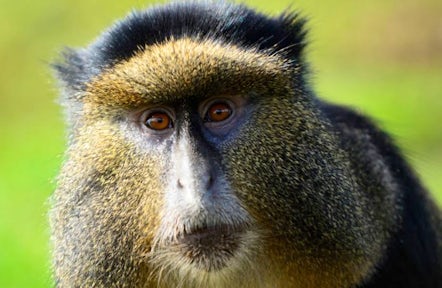 Big Cats
Uganda is home to a number of big cats including lions, leopards and cheetahs. While many of these majestic animals can be found wandering rogue portions of Uganda's stretching savannah grasslands, there are a select few national parks that provide the best chances of sightings.
Where can I find big cats in Uganda?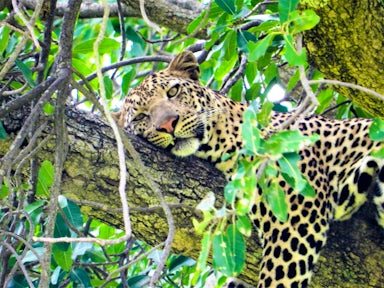 You have to get off-road to find the lions and leopards.
Elephants
Elephants are found throughout Uganda. There are around 5000 living in the country today, and populations are rising despite a global decrease in elephant numbers. That said, much work still needs to be done to protect this important animals from further decline (caused mainly by poaching).
Where can I find Elephants in Uganda?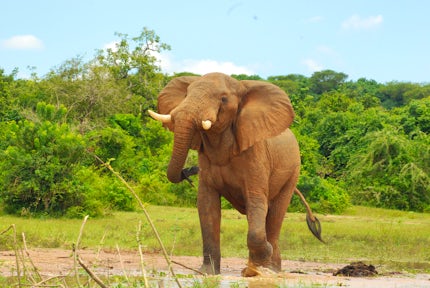 Uganda is one of Africa's most bio-diverse safari destinations.
Hippos
Hippos are pervasive throughout Africa, and Uganda is no exception. Boat safaris are the best way to spot hippos along with other wildlife that flock to the watering holes during Uganda's drier seasons.
Where can I find Hippos in Uganda?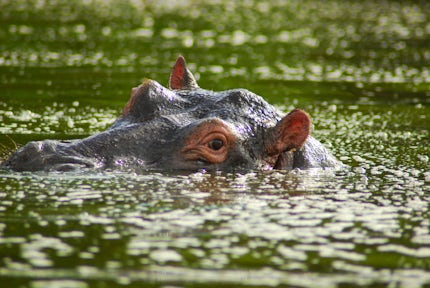 Crocs
The Nile system is home to plenty of crocs, and Murchison Falls National Park has the highest concentration of crocodiles anywhere in Africa. Crocs, much like hippos and elephants, are ubiquitous on Ugandan Safaris, and watching these Mesozoic beasts glide effortlessly along the riverbeds, ready to attack anything that dares wander too close, is a humbling reminder of our own fragility.
Where can I find crocodiles in Uganda?
Spot the crocs lakeside on boat safaris.
Antelopes & Buffalo
The savannah grasslands of Uganda are prime terrain for African Antelopes and buffalo. There are 29 species of Antelope found in Uganda. Both of these species are common sighting along game drives, although they are best seen in the dry season as they flock the watering holes or sit idle by the riverbanks under the shade of the savannah shrubbery.
Where can I find antelopes & buffalo in Uganda?
Antelopes and buffalo are found in all national parks with savannah.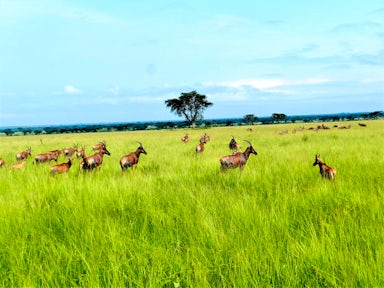 Ugandan Kob and Bushbuck roam the savannah plains at QENP.
Birds
Uganda is a fantastic destination for bird watching. While there aren't many endemic species, there is tremendous variety in birdlife and the wet seasons (from March to May and again in November) bring a wealth of migratory birds.
You can find bird life everywhere in Uganda, but if you're searching for specific species, you'll want to hire a seasoned birding guide. We can help arrange this for you.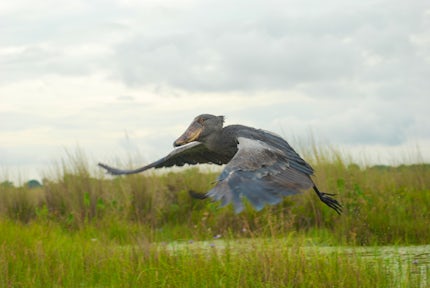 The Shoebill is one of the most sought after species for birders.
Our Most Popular Trips to Uganda
The tours below showcase just some of what is possible. Use these itineraries as starting points, or to draw inspiration. Then get in touch, and let our expert team help craft the perfect itinerary for you.
Thinking about visiting Uganda?
1
Listen
We'll spend some time listening to your aspirations, then discuss the kind of experience that might suit you.
2
Match
Next we'll discuss the options, shortlist the best trips for you and present you our impartial recommendations.
3
Reserve
We'll place a 24 hour hold on your preferred option - without obligation - whilst we talk through the details.
Get in touch and we can help you understand your options, design an itinerary that's right for you, and then get you set up and ready to go.
+1 315 636-4279