Introduction to Mount Baker
Located on the border between Uganda and the Democratic Republic of the Congo, Mount Baker is the sixth-highest mountain in Africa. Edward Peak reaches a height of 4,844m.
Alongside the neighbouring Mount Stanley and Mount Speke, Mount Baker forms a triangle enclosing the upper Bujuku Valley.
In 2020, Klaus Thymann's expedition confirmed that Mount Baker and Mount Speke no longer have glaciers. Thymann used comparative images to prove that 2 of Africa's 5 glaciated peaks have been lost.

Popular Treks in the Rwenzoris
Below are a few examples of how the Rwenzoris can feature in your Ugandan adventure. These trips can be booked directly, adjusted to suit you, or we can start with a blank sheet of paper and build a completely tailor-made itinerary.
History of expeditions to Mount Baker
In January 1906, the Austrian mountaineer, Rubert Grauer, reached the ridge line of Mount Baker. A month later, an English expedition reached the same point. In June 1906, an expedition led by Prince Luigi Amedeo, Duke of the Abruzzi finally reached the summit.
During the expedition, the team also scaled the peaks of the 5 other highest mountains of the Rwenzori Mountains.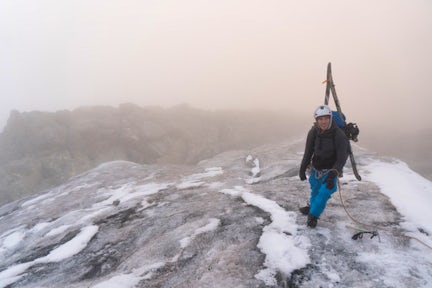 You will want to train for Rwenzori treks!
What does a typical Mount Baker hike look like?
After flying in from Entebbe, we begin the trek from Kilembe, the base camp. Adventurers must pay a gate entrance fee of US$35 per day to the Uganda Wildlife Authority. If you book your expedition with us, all of this is taken care of for you.
We trek up 1,146 metres to Sine Camp, at 2,596 meters, where we will spend the night. On the second day of trekking, we hike up to Mutinda camp at 3,588 meters, where there is a spectacular viewpoint.
The following day we will hike to Bugata Camp at 4,062 meters, passing through a valley of beautiful fauna, streams, and waterfalls. At this point, the trek gets tougher, with steep ridges and bogs to traverse. However, this is one of the most beautiful parts of the trek.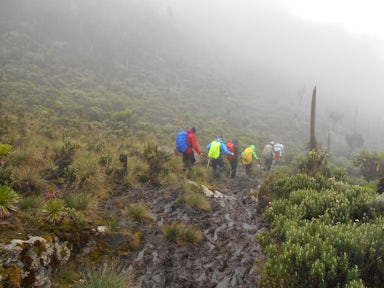 On the fourth day, we head up to Hunwick's Camp at 3,974 meters, passing through the Bamwanjara pass, where views of the towering snow-capped peaks are epic. You will get a glimpse of the towering giant, Mount Baker.
We leave the camp early for the climb to Mt Baker's summit (4,844m). The ascent from Hunwick's Camp to the top is around five hours and the descent takes 3 hours. You will spend another night at Hunwick's Camp.
You will retrace your footsteps via Bugata Camp during your descent.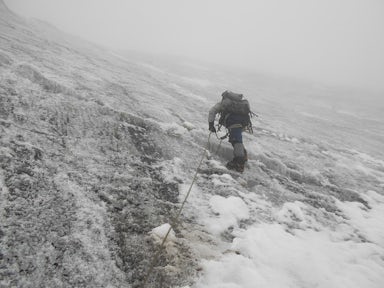 Traversing the ice and snow where central and eastern Africa meet.
Summit Mount Baker
A typical route through the Rwenzoris to Mount Baker. Talk to our team to book the trip directly, or to include as part of a tailor-made itinerary.
Ready to explore the Rwenzoris?
The tours below showcase just some of what is possible. Use these itineraries as starting points, or to draw inspiration. Then get in touch, and let our expert team help craft the perfect itinerary for you.
Thinking about visiting Uganda?
1
Listen
We'll spend some time listening to your aspirations, then discuss the kind of experience that might suit you.
2
Match
Next we'll discuss the options, shortlist the best trips for you and present you our impartial recommendations.
3
Reserve
We'll place a 24 hour hold on your preferred option - without obligation - whilst we talk through the details.
Get in touch and we can help you understand your options, design an itinerary that's right for you, and then get you set up and ready to go.
+1 315 636-4279