What makes Wildwaters special?
Wildwaters is one of Uganda's most unique lodges. The lodge sits on a private island and is accessible only by boat. The lodge is an innovative example of how to blend adventure travel with luxury lodging.
Most travellers use Wildwaters as their base as they spend a couple of days doing adrenaline activities around the Jinja area: kayaking, canoeing, white-water rafting, paddleboarding, fishing, horse riding and quad biking to name a few.
The lodge itself ticks all the boxes for a modern luxury lodge. Well-designed, spacious rooms, en-suite bathrooms and private verandas, and exceptional service. Wildwaters is a very special place.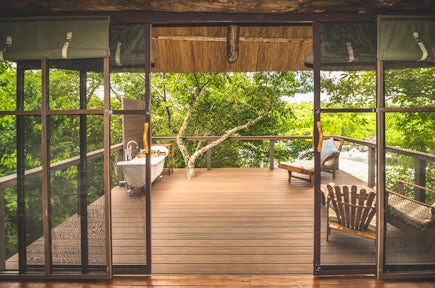 An outdoor bath amongst the trees at Wildwaters Lodge
Rooms & Amenities
Wildwaters has 10 suites, including 1 elevated family suite. Each suite has an en-suite bathroom with walk-in shower. The views from all the suites will impress, but river room views are particularly stunning. Complimentary drinks are brought to your private veranda, and there are massage and spa treatments available as well.
The main building is where you'll find the bar, restaurant, lounge area and dining area that leads out onto the pool and the rapids of the Nile just beyond.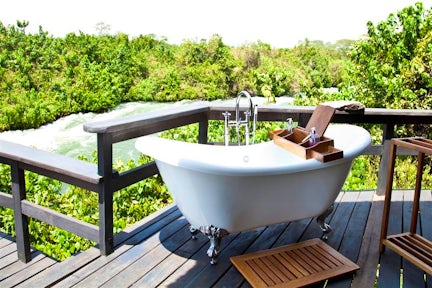 Take a relaxing bath with an amazing view
Activities around Wildwaters
Wildwaters is just 25km from Jinja, Uganda's adrenaline capital. It's common for travellers to top or tail their Ugandan itinerary with a couple of days around Jinja for some high-octane adventuring around the Nile. Kayaking, canoeing, paddleboarding, horse-riding, mountain biking, bungee jumping and the famous white-water rafting are all possible here.
Returning to the comfort of your luxury suite after a day of intense activities is blissful, and Wildwaters is the perfect example of hard days, soft nights.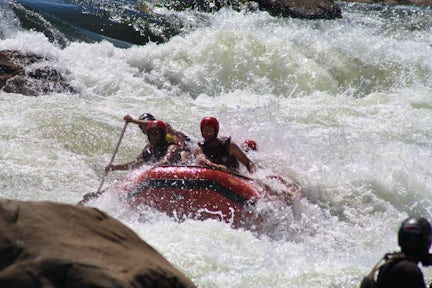 An activity perfect for adrenaline junkies
Brilliant says
Please note that we do not handle lodge only requests. If you are planning a wider adventure in Uganda and want expert support, we are here to help and would love to hear from you.

Popular Uganda Trips
The tours below showcase just some of what is possible. Use these itineraries as starting points, or to draw inspiration. Then get in touch, and let our expert team help craft the perfect itinerary for you.
Want to stay at Wildwaters?
1
Listen
We'll spend some time listening to your aspirations, then discuss the kind of experience that might suit you.
2
Match
Next we'll discuss the options, shortlist the best trips for you and present you our impartial recommendations.
3
Reserve
We'll place a 24 hour hold on your preferred option - without obligation - whilst we talk through the details.
Get in touch with our team to enquire about including Wildwaters as part of your Ugandan adventure.
+1 315 636-4279