Why We Like This Lodge
Wonderful Location: Tucked away in the Budongo Forest Reserve in Murchison Falls National Park, Budongo Eco Lodge is perfectly situated for some well-earned respite. Secluded cabins underneath the canopy of old mahogany trees make you feel like you are the only ones there, allowing you to unwind completely.
---
Activities: Don't mistake quiet for boring though, Budongo Eco Lodge offers many exciting activities. You can trek through the thick forest undergrowth to see the chimpanzees who habituate the forest or head out on a game drive across dry savannah grasslands and even take a cruise down the Nile River.
---
Low environmental impact: Built with sustainability in mind and local materials, Budongo Eco Lodge easily blends in with its natural forest surroundings, without creating long-lasting damage.
---
Birdwatchers Haven: Private verandas with exquisite views of the forest are perfect for quietly observing the various bird species present in the woods, so make sure you have your binoculars ready, as you're unlikely to be disappointed.
---
Rich History: Budongo Eco Lodge was originally a base for the renowned chimpanzee conservationist, Jane Goodall and her institute. The lodge has many fossils from the forest on display, which provide interesting context on the roots of the forest.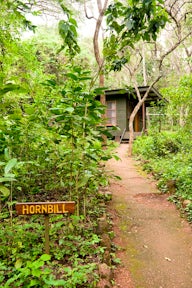 Accommodation
Blending with their natural surroundings, Budongo Eco Lodge offers five cosy cabins with private verandas, en-suite bathrooms, and fully equipped with shower, washbasin and composting toilets.
These cabins are perfect for those who value seclusion and a quiet atmosphere.
For larger groups, there are 4 dormitory-style rooms, with comfortable bunk beds, mosquito nets and shared bathroom facilities are an excellent choice too.
These are also great for those looking to stay on a budget, as they are the more affordable option.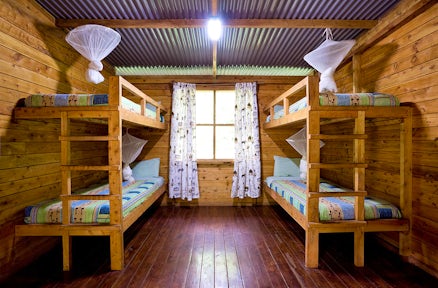 Facilities
Budongo Eco Lodge has an excellent restaurant, serving a variety of international and local dishes.

Guests can sit on the veranda where they will be immersed in the rainforest's magical sounds, and if they choose, they can also enjoy freshly brewed Ugandan coffee, which the lodge takes pride in serving every day.
Budongo Eco Lodge also has a visitors centre showcasing old fossils, local artefacts and old poaching relics. The centre is a great place to learn about the mysterious rain forest's secrets or relax in the comfortable lounge area.
There is also a small curio shop where you can buy local crafts.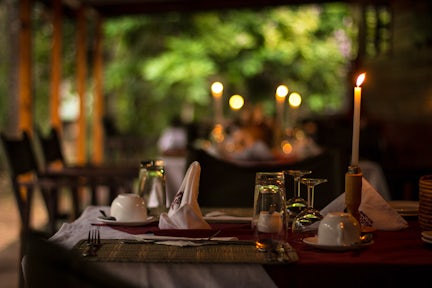 Activities
Budongo Eco Lodge is the best of both world; you don't have to choose between experiencing the savannah or forest. It is perfectly situated to enjoy both.
You can either trek through the forest observing the chimpanzees in their natural habitat or head out on a game drive across the vast savannah grasslands in search of the big five, or even feel the pure magnificence of Murchison Falls with a river cruise or hike in the surrounding area.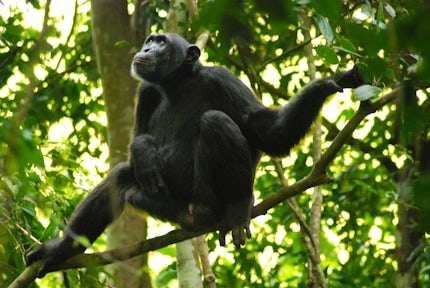 Chimpanzees can also be found at Murchison Falls.
Our Most Popular Uganda Trips
The tours below showcase just some of what is possible. Use these itineraries as starting points, or to draw inspiration. Then get in touch, and let our expert team help craft the perfect itinerary for you.
Thinking about visiting Uganda?
1
Listen
We'll spend some time listening to your aspirations, then discuss the kind of experience that might suit you.
2
Match
Next we'll discuss the options, shortlist the best trips for you and present you our impartial recommendations.
3
Reserve
We'll place a 24 hour hold on your preferred option - without obligation - whilst we talk through the details.
Get in touch and we can help you understand your options, design an itinerary that's right for you, and then get you set up and ready to go.
+1 315 636-4279